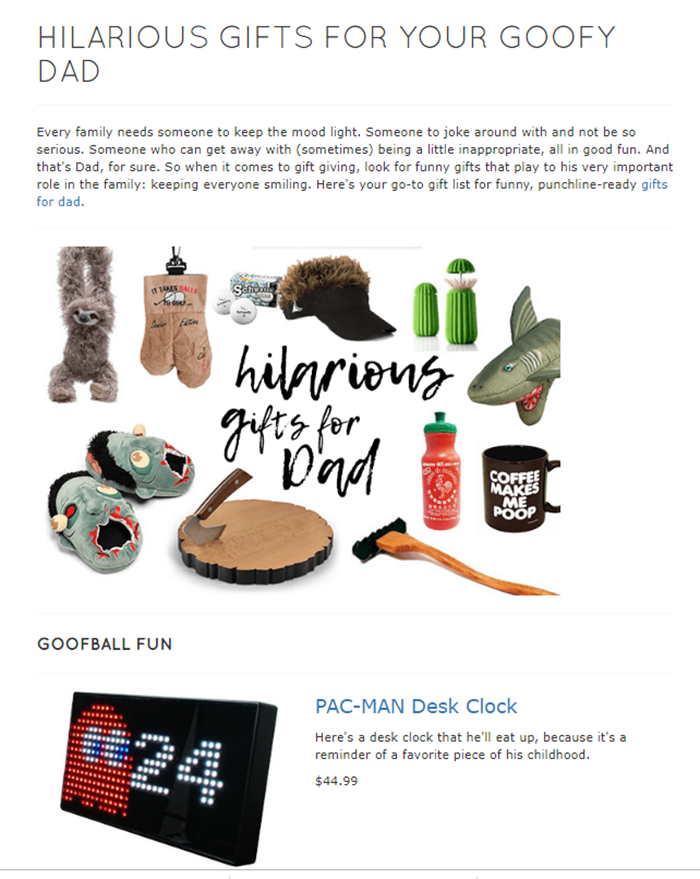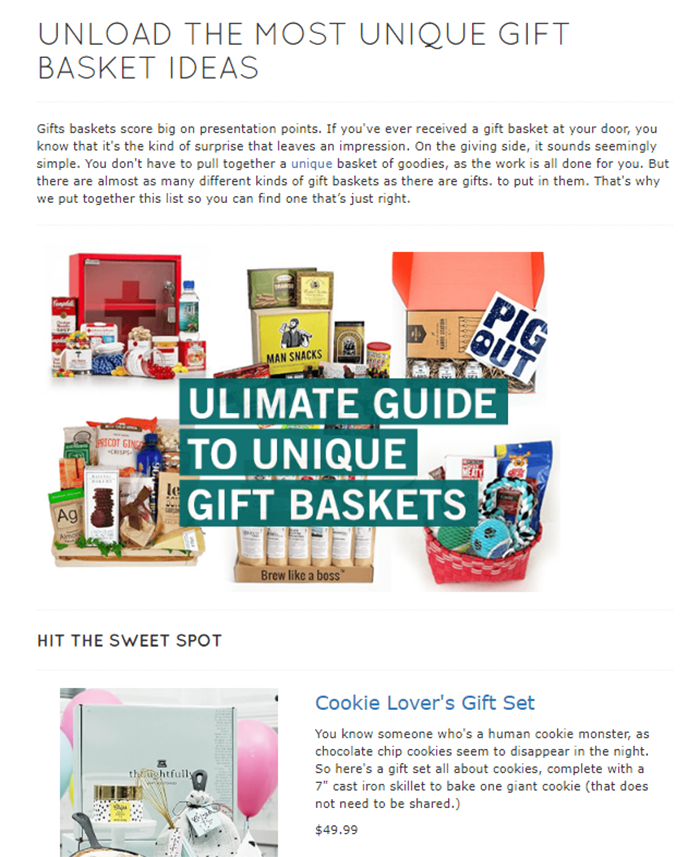 Gift Advisor
Gift Advisor is an affiliate aggregation website that offers uniquely curated gift ideas. My task was to provide a constellation of content strategies intended to create a new brand, build brand authority, establish a brand voice, and drive site traffic and revenue.
Services included:
Strategic merchandising direction
Strategic brand development
Team hiring/allocation for merchandising, design, content, and social media
Project management/reporting
Budget management
Creative direction
100% remote team management – The staff, when at full capacity, included employees in 5 different states all working remotely in synchronicity.
Execution as-needed
Activations included:
UX redesign to highlight content and a more current shopping layout (2015/2016)
Brand renaming from uGiftideas to Gift Advisor (2015)
Brand voice establishment (2015)
3 Satellite Media Tours of approximately 20 live interviews each (2015/2016) – See On-Air portfolio
Merchandising of thousands of products from Amazon and other affiliate merchants (2016/2017/2018)
342 pieces of optimized site content such as page descriptions, blog posts, tips, and gift guides (2016-2018)
Market survey and related media outreach (2015)
Market research at NYNOW (2017/2018)
Social media establishment on Instagram and Pinterest with animated Gifs, other ViBE posts, influencer/hashtag strategies, contest (ended June 2017)
Notable Instagram Posts: 
Content Highlights: 
https://www.giftadvisor.com/b/easy-ways-to-make-a-cake-feel-fancy-even-for-non-bakers/
https://www.giftadvisor.com/b/unique-wedding-gift-ideas/
https://www.giftadvisor.com/b/funny-gifts-for-men/
https://www.giftadvisor.com/b/graduation-gifts-for-your-friends-that-are-most-likely-to-succeed/
https://www.giftadvisor.com/b/unload-the-most-unique-gift-basket-ideas/
https://www.giftadvisor.com/b/50-funny-gifts-for-dad/
https://www.giftadvisor.com/b/a-list-of-gift-ideas-for-women-of-a-certain-age/
Skills:
Affiliate commerce editorial, Brand expression, Content strategy, Copywriting, Editing, Merchandising, On-Air, Public relations, Social media